First we took the boys to see "Robots" at the dollar movies. Xander had so much fun, and Maxton fell asleep on my lap because he wouldn't take a nap this morning. At the fight scene at the end, Xander was sitting in his seat throwing punches at the air! He loves robots. We have a little toy robot and the other day Xander found it and said, "Oh my goodness! A robot!" which had me laughing for a while. Anyway, Xander also had popcorn for lunch.
Then we went up the canyon, intending to go to Bridal Veil Falls. However, the trail up there was closed and David said he remembered there had been a mud slide. So we stayed at Nunn's park and let the boys throw pebbles into the river and get very, very dirty. Maxton had one side of his face almost black from rubbing his hands across it. I was so sad I forgot my camera. I've got to stop doing that! The river was really swift and full, so I had to put my mommy worries and active imagination on hold. We watched them every second and I ended up having a good time. It's so nice to get out in nature and feel the peace it brings. The mountains are so beautiful.
Then we headed over to my mom's house for a while. Maxton kept asking for "Hyro" and wouldn't accept that he was taking a nap. Jay finially went down and woke Hyrum up, and off we headed to Chuck E. Cheese. We had Hyrum ride in our car and Max went with Jay and Melissa. The boys love to ride in different cars. When we got to Chuck E's, Hyrum kept calling it "Yucky Cheese" which was hilarious! My mom still calls it Chunky Cheese, which sounds disgusting. David and I ended up using most of the tokens, because Xander spent most of his time in the ball pit, and only used a few. Maxton was too scared to go in without Grandma, so she took him on the rides. I played Skeeball about a million times, and I'm slowly getting better. We ended up with 465 tickets and bought Xander and Max some sidewalk chalk and play dough, which are both novelties in our house. Xander thought the playdough was so cool, and David would make him snowmen, to which he would ask, "Squash?" and then squish them to bits. He also loved making snakes and saying, "Sssss-nake."
Hopefully I can add some photos when I get a chance. Melissa was smart and brought her camera.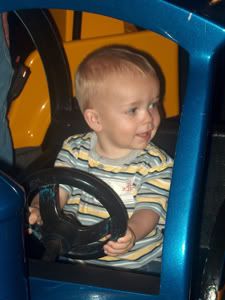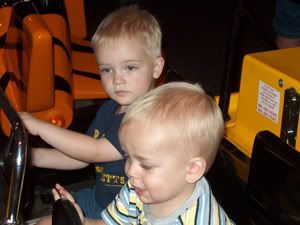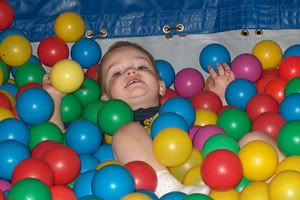 I've started a new blog: Come follow my crafting adventures on my new blog. Find me at: creativeirony.com.