Well, my resolution to give up scrapbooking for a while has failed. I did three CG layouts today. I think I just can't help myself. Still no desire to paper scrapbook, but I'm trusting that will come back in time. I know I'm going to have to do some design team stuff soon. Here are some links if you want to see.
Friends (June 17)
http://twopeasinabucket.com/pg.asp?cmd=display&layout_id=586571
My Dad (June 19)
http://twopeasinabucket.com/mb.asp?cmd=display&thread_id=1246506
And this one, which is my FAVORITE! I love that I got to use PINK and FLOWERS! Not something that happens to me very often. This was scraplifted from Kate Teague.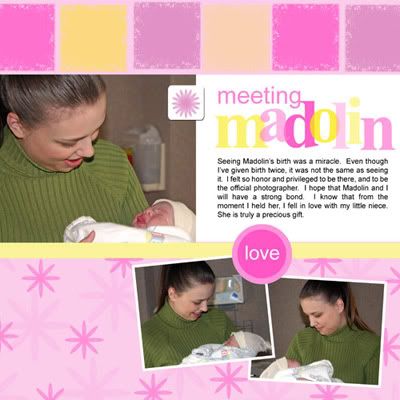 I've started a new blog: Come follow my crafting adventures on my new blog. Find me at: creativeirony.com.