I only did a tiny bit of scrapping this weekend, but I love this page. I wasn't too crazy about the photos, although they are hilarious, but the lighting is horrible (but at least it hides most of the disaster area of the boys' room). Oh, and yes, those ARE Green Grass Stamps. ;)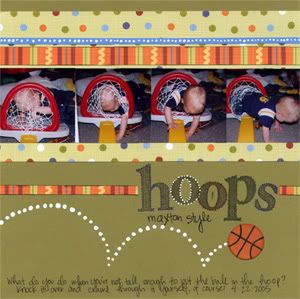 I've been reading the Wheel of Time books by Robert Jordan, and really enjoying them. It's been a long time since I read any fantasy that wasn't Harry Potter. And there are 11 books, plus more to come out in the series, so it should keep me busy for a while, which is my main complaint with most books. David is reading them ahead of me, which is strange. Usually I'm the one reading ahead of everyone else, but since I wasn't interested until he started borrowing them from Jay and Melissa, he's a few books ahead of me.
School is pretty funny. I'm still not used to the idea of going to UVSC. I guess I'm sort of an intellectual snob. This sounds really horrible, but typifies my ideas about UVSC. In my graphic coputer applications class, we grade each other's quizzes. I graded one where the guy spelled quit q-i-u-t-e. I am not the best speller by any definition, but that is really bad. However, I'm learning a lot I didn't know before.
I've started a new blog: Come follow my crafting adventures on my new blog. Find me at: creativeirony.com.