This entry is going to be full of random things. We've been so busy having fun this weekend, that I have a lot to tell you about. Last Friday, we had the most spectacular thunderstorm. It went on for hours. David and I both love thunderstorms. We watched a movie and then around 10:30 we went out to watch the lightening. I took my camera and after some fiddling and borrowing a tripod from our neighbors who were out there (the boys broke mine after much pretending that it was a microphone), I figured out how to take photos of lightening. This was the best one. By the time I figured it out, the lightening had moved south and also my angle wasn't wide enough. Makes me want to buy a fisheye lens. We also found out on Saturday that the Provo temple was hit! It knocked out the power in the temple for a while, but no major damage was done.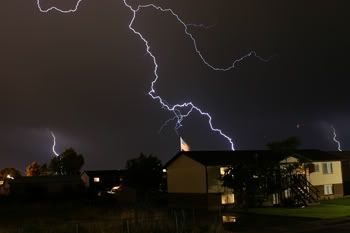 Then, on Saturday, we went to Orem's Summerfest. Totally fun. Xander has a thing for carnivals from playing a Dora game, so he was so excited! We ate food, walked the booths and rode the rides. David and Xander went on the Ferris wheel. It was David's and Xander's first time. Xander loved it! We also stayed for fireworks, but I was worn out from figuring out the lightening the night before and I just wanted to enjoy the show. So no photos.
Also, I have to tell a funny Maxton story. Last week, we were at my parents' house and I was complaining that I was tired. My dad starts laughing and tells me that Maxton said, "Mommy, if you're tired, then go to sleep." He's such a funny little guy. He's totally dead pan and hilarious!
And finally, links to more layouts. Lucky you. ;)
June 10
June 11
I've started a new blog: Come follow my crafting adventures on my new blog. Find me at: creativeirony.com.