One of the things on my camping box list was water bottles for each of us. When I went to the dollar store, they had some really cute ones, but they only came in three colors. Of course, this is a problem.
There is no way my kids are going to be ok with that kind of ambiguity.
I knew when I bought them that I was going to put their names or something on them as identification. I guess writing on them with a sharpie would have worked, but I had to have more fun than that.
So, my kids' water bottles went from this:
to this:
Wanna make your own? Read on, read on.
Supplies:
Water Bottle
Vinyl
Cricut if you are cutting your own vinyl (you can also custom buy vinyl all over the place. try etsy for some really cute stuff)
Plastic Spray Paint
Painters' Tape
Transfer Tape/Masking Tape
Step One:
Clean your bottles.
Step Two:
Cut vinyl initials and symbols. I used my Cricut and the Hello Kitty and Indie Art cartridges. My kids all choose the symbol they wanted.
If your interested, I used the following settings to cut through the top layer of vinyl and not the backing (might vary from machine to machine, but this a good starting place). Blade Depth: 6, Speed: 4, Pressure: 2.
Step Three:
Cull the extra vinyl from your image. You are doing a positive image, so remove all the positive parts, and leave the extra.
My kids LOVED pretending their culled pieces were tattoos. I'm not so sure about the direction they are taking their lives. . .
Step Four:
Put your vinyl piece on a piece of transfer tape with the vinyl side down on the sticky part. Peel off the back of the vinyl so that the sticky parts are all exposed (if you bought your vinyl, it may come with the transfer tape already).
Step Five:
I did my vinyl application in two steps, with the monogram first and then the symbol underneath it. Line everything up, and burnish it. I used the handle of a pair of scissors to do mine. Peel off the transfer tape.
If I'm not making much sense to you, try
this video
from the Nth (with me and the very talented
Jen Gallacher
), and that might help a little with the whole vinyl transfer thing.
Step Six:
Tape up everything you don't want painted.
Step Seven:
Using spray paint made for plastics, give an even coat of paint and let dry.
Step Eight:
Remove tape and vinyl. Tada! My kids love theirs! I'm not certain I'm going to be able to make them stay in the camping box.
Linking Up Here: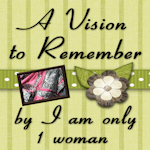 Mad Skillz