We got to see Mom and Dad Henry on Sunday. At first the boys were shy, but they warmed up pretty quickly. Xander even gave out hugs when it was time to go.
The big news from yesterday is that we bought a minivan. I'm pretty surprised! We've been thinking of selling our Jeep. It had 133,000 miles on it and little things were starting to go wrong and we still owed quite a bit on it (although not more than it was worth). So, we were getting anxious to get rid of it, plus with 3 kids, there just wasn't going to be enough room. Soooo, we were going to go see a movie yesterday, and dropped the kids off at Grandma's. Then we decided to just hang out together. On the way to Barnes and Noble, we decided to stop and look at mini-vans. Well, one thing led to another of course, and now we have a new van! We got a great deal on it and it's an '05 Grand Caravan with less than 30,000 miles on it. It's soooo pretty. I will miss the jeep, but at the same time, it's a huge weight off my mind. The payments will be about $100 more a month, but with what we save on gas and insurance, we'll almost make that up.
Here's the new van and the June 6 layout!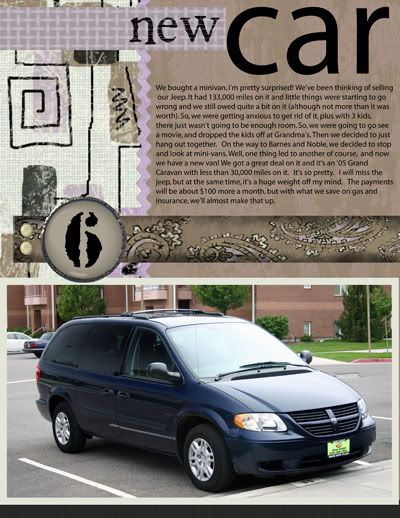 I've started a new blog: Come follow my crafting adventures on my new blog. Find me at: creativeirony.com.