We gave Griffin his first real bath today. He might have had a good one in the hospital, but I didn't see it, so it doesn't count. He cried most of the time, but not at his loudest volume (which I've only heard a few times). He's starting to make cute little baby noises and to really look at you, which is so fun. He's such a little sweetie.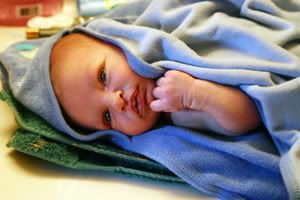 I have to laugh at him a little though. He might grow up to be a comedian, because he already has great timing. We've had to wash our sheets several times because he poops while we are changing him. And we've tried to learn. Yesterday David was being super careful, and he still managed to get the sheets. Today I was changing him, and being careful. He started to poop mid-change, and I thought, "Ha, the diaper's still under him." Nope, somehow he managed to get enough distance to overshoot the diaper! Dirty sheets again. I guess we need to start changing him on the changing table or get one of those portable changing pads that come with diaper bags. But so far, no fountains.
We went to the park today with Melissa, Hyrum, Madolin and Grandma. The boys had so much fun on the swings. Grandma put them on the regular swings, since the baby ones were occupied and I was so worried one of them would let go and face plant in the wood chips, but they did really well. No accidents, hurray! We had a lot of fun, but it's going to be a challenge to convince Xander he has to walk now, instead of getting a ride in our double stroller.
I've started a new blog: Come follow my crafting adventures on my new blog. Find me at: creativeirony.com.