So far this morning, the older two boys have broken a Christmas tree ornament, sucked on the crocheted snowflake ornaments, jumped off the couch and onto one of my wrapped birthday presnts, and got ahold of Griffin's gas drops and drank the rest of them. I was thinking to myself, "Gee, self, I can't wait until these kids get older and stop ruining my things." Then it hits me, IT DOESN'T STOP. My brother, who is 18, just ruined my dad's old car they were letting him drive (several fender benders, driving like a maniac, etc). It's so bad, they got sick of repairing it and just gave him the dang thing. So, it never ends, does it?
And yes, our tree is up already. David was super-excited to get it up, so yesterday we went and bought some ornaments and lights and put it all up. Xander was awake to help us, but Maxton was in bed. Here's a photo of Xander helping.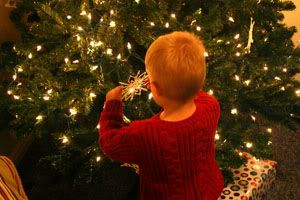 And one of Griffin. He's getting chubby!
And one more, this time Max, just because this photo makes me laugh.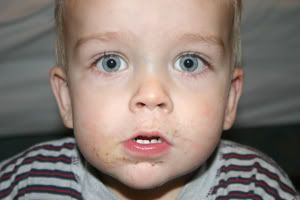 I've started a new blog: Come follow my crafting adventures on my new blog. Find me at: creativeirony.com.