We got back from California last night. We had such a nice, relaxing time. The boys were a hoot and loved sleeping in their new sleeping bag/air mattresses that my mom gave them for Christmas. They couldn't get enough of being at Grandma and Grandpa's house. My soon to be SIL, April, was so nice to them. About 10 times a day, Xander would say, "I want to play a game" and she was nice enough to play with him. They played Peanut Butter Party and Sorry mostly. Uncle Brett and Grandma also took their turns.
We had expected rain the entire time we were there, but we had 3 days out of the 5 that were pretty sunny. It was raining a lot though, and we could tell there was a lot of flooding. We spent Tuesday, Wednesday, Thursday and Friday in Corning with David's parents. Then on Saturday, we went down to Yuba city to see his grandparents. His grandma is a hoot! She's a total Southern peach, so nice and with an adorable accent. She just loved seeing the boys. They ate a ton of popcorn and then threw fits because I wanted to take their picture. We took one anyway. Then we went on to Sacramento a train museum. The boys were amazed. They especially loved the upstairs, where they had some Thomas the Train tracks set up and a Lionel model train behind glass. Then we went on to Gregg and Crystal's (David's brother and his wife) where we had a blast ringing in the New Year. We had some fantastic fondue--neither David nor I had ever had it before. It was so good! I had to stop myself from eating the whole pot of cheese. I managed to eat only two pieces of bread dipped in it. I paid for it though, because Griffin was fussy. Then we played Apples to Apples and Mad Gab.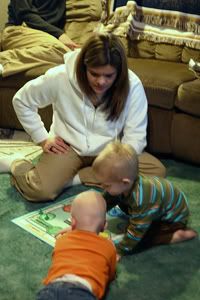 Xander playing games with April and Maxton (Max lost interest just after this)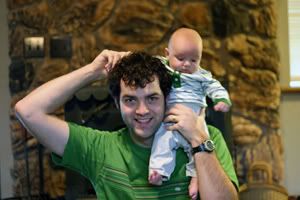 Griffin on David's shoulder at his parents' house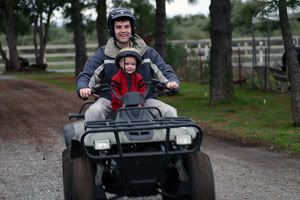 Xander riding the 4-wheeler slowly around Grandpa's land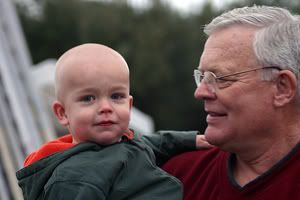 Maxton waiting for his turn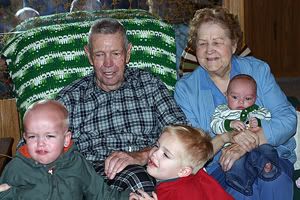 The boys with their great-grandparents (what is that face Max is making?!?)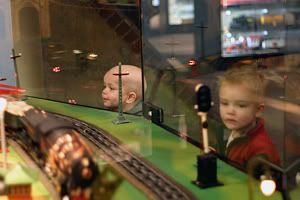 Watching the trains at the museum
Maxton with Grandma in Old Sacramento (how does he con everyone into picking him up?)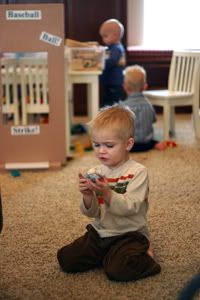 Playing at Gregg and Crystal's (that's Maxton and cousin Kade in the background)
I've started a new blog: Come follow my crafting adventures on my new blog. Find me at: creativeirony.com.