Luckily, no hospitalizations though!! David was gone on a business trip this whole past week. My sister's hubby also went, so we spent the whole time together; I even spent the night at her house twice. She dyed her hair and we did all sorts of scrapbooking. I'm working on my Hall of Fame entry, a contest that Creating Keepsakes puts on. You have to have 10 layouts, and I have 7, so almost done! Yay! Anyway, David took my camera and when I get a chance, I'll post some photos from NY, but for now, here are so recents snapshots of the boys.
Hanging out with Mommy and Daddy, after hours. Griffin won't go to sleep until 11:00. Just a few more weeks and I'm going to start sleep training him and hopefully that will stop!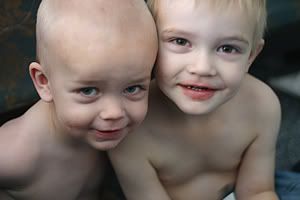 I had to bribe Xander for this photo. His reward: the oppertunity to use my camera, closely supervised, to take photos of Griffin, all of which were blurry.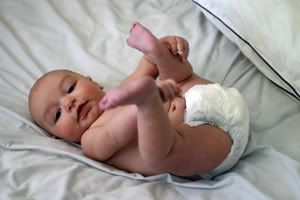 Griffin discovers his toes!
I've started a new blog: Come follow my crafting adventures on my new blog. Find me at: creativeirony.com.