This has been a pretty exciting morning around here. I got this email today. My mouth fell open. Sometimes all the
opportunities
I've been given, well, they just don't feel real. I'm always amazed at the world
scrapbooking
has opened for me. Here's the email (the photo is the cover of my book!!)
with Kara Henry
We think this is our BEST Idea Book Ever!! (and enjoy FREE shipping)
Every life has stories to tell—and every scrapbooker wants to tell them. Journaling expert Kara Henry has a deep conviction about the importance of journaling in scrapbooks, and she has gathered hundreds of great ideas that will take your own stories from elusive memory to the written word. Prompts, suggestions, and tips for more meaningful journaling will help you find the right words to scrapbook everything from everyday events to special occasions, from relationships to the things that make you laugh. Go from writer's block to a scrapbook full of memories—share your stories!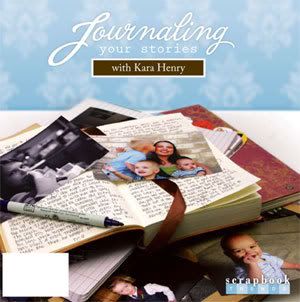 I'm so honored that my friends at Scrapbook Trends think so highly of this book. It's been a lesson in hard work for sure, but I always enjoy working with their team. Such great people! Anyway, I know I'm going all sappy, but it's been a crazy few months and I'm pregnant, so you have to forgive me.
Other exciting news is that I've been filming
scrapbooking
tutorial
"
web casts
" for the Nth Degree Creative, hosted on Creative
Xpress
(
click here to see the into video
). The hits they are getting on the video are amazing and the first one with tutorial content is slated for release later this month. I'm so excited and passionate about this project. My co-host
extraordinaire
, Kristy Lee, is a blast to work with and I love the Creative
Xpress
team. So fun to work with them.
So, there's some exciting updates on my "professional" life.
I've started a new blog: Come follow my crafting adventures on my new blog. Find me at: creativeirony.com.