You know from my post last week that I've started collecting art for my kitchen. It started with
these alphabet frames
(by the way, I found a great spot for them. I'll show you when I do my big kitchen reveal). Then I did the
crochet butterfly
. Some of my art has been pretty quick, like printing vintage images, but I also wanted to have some meaningful pieces that I made myself.
I've always loved silhouettes. They are popping up all over blogs these days. So, I thought I'd make my own version. I love how it turned out:
Ok, supplies:
Frame
Paper Scraps
Mod Podge
Pictures to turn to silhouettes
Step One:
Cut a piece of cardboard to size or use the inset of your frame. Tear scraps of colored cardstock into smallish pieces. I did all shades of yellow to coordinate with my kitchen colors. Then I started layering them. I found it easiest to put a thinish coat of mod podge on the cardboard, then put the scrap on, then mod podge over it. Keep going until your background is covered. Let dry.
By the way, Allison from House of Hepworths inspired this method with her
paper bag background
idea, which I also love.
Step Two:
Turn over your piece and cut off any overhanging paper.
Step Three:
Decide on how big to make your silhouettes, then print out pictures. Here's a
good tutorial
on how to cut them by hand. I actually had silhouettes in vector files from a project I started last year and never finished, so I used my Craft ROBO to cut out mine, but that sort of technology is completely unnecessary.
Step Four:
Cut out silhouettes. Arrange on background. Tape down. I opted not to Mod Podge, but that's totally an option. I just though I might have fun updating it in a few years, so I just used some scrapbook tape runner to attach it.
Step Five:
Put in frame and hang.
The kids adore it. As soon as I hung it up, Aubrey was pointing out who was who and saying she was up there with her friends. I love how cheerful my kitchen is starting to look. Happy Dance Happy Dance.
For other tutorials, check out my
full list here.
Linking Up Here: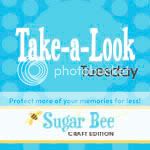 I've started a new blog: Come follow my crafting adventures on my new blog. Find me at: creativeirony.com.