Step 1: Determine what size quilt you are going to make.
Smaller quilts are faster, but a twin size will grow with them. I picked a twin size for mine because Aubrey didn't have a larger sized quilt and I had a lot of clothes to choose from. I had clothes I ended up not using.
Check out this quilt size guide to get you started.
It's in PDF format.
This quick visual guide to mattress sizes might also help in determining your size:
Don't feel like you can't play with this a little, especially if you're going bigger. Sometimes once you pick your block size, it makes sense to add a few inches instead of dealing with cutting squares that are 4 3/8". That's just not a fun number.
Determine your block size and how you are setting them in your quilt. I picked a 4.5" block, with sashing that was 2" and squares between that were 2". You don't have to do a sashing and if you are low on baby clothes, mix it up with fabric bought by the yard. I added flannel to my quilt and it is super snugly.
My clothes in a bin:
Step 2: Draft your quilt using graph paper.
Determine the finished size of your quilt, the size of any boarders. Then calculate how many squares of what size and what type fabric you need. This will be so helpful when you're cutting out your quilt. You will also need enough fusible interfacing or stable, non-stretch fabric to back your clothing quilt squares.
I didn't use graph paper, but here's my sketch:
Step 3: Start cutting.
I highly recommend a quilting mat, ruler and rotary cutter. These are a bit pricey, so look for sales or % off coupons. You will be so glad you didn't decide to do this all with a pair of scissors. Please keep your fingers on the ruler and never put them past the edge. My aunt cut her finger so badly once--it's really worth it to get into the habit.
I cut the clothing down the seams using a pair of scissors, although it would be possible to do it freehand with the rotary cutter. Then, I cut my flannel to size, then used a quilting spray adhesive (it washes out) to adhere it to my clothing. I made sure to include ruffles and gathers and bows and pockets, but this is really just extra and you can do it out of the fabric that lies flat as well. Be careful not to stretch the knits as you put them on. Then I used the ruler and rotary cutter to cut the extra clothing from my square. You could do the same process using fusible interfacing--they come with directions on how to fuse them to fabric.
Squares rough-cut and waiting for flannel:
Close up of a the back of a square (with another square facing up behind it).
Be sure to check for any hidden snaps. Remove them if you can. If not, mark them so you don't break a needle (I broke one sewing my blocks together)
Step 4: Count your squares to make sure you have enough.
I always cut a few extra and I'm usually glad I did.
Step 5: Layout your quilt.
This is like dry fitting tile. It allows you the first peek at what your finished quilt is going to look like and makes it much easier to mix up the fabric so you get a good randomness going.One at a time, I turned my squares over and used a washable fabric marker to write a grid system on the white flannel on the back, ie, A1, A2. . . B1, B2. . . etc. This was something I'd never done before and was a stroke of genius. I can't tell you how many times I've wondered if my squares were out of order. It was simple to tell I was getting it right and worth the extra time it took to write. You can buy a pen at any fabric supply store and it should wash out. Even if it didn't, I wasn't too worried, since they were on the back of my squares.
The top part of my quilt, the first row turned over and marked:
Step 6: Start sewing.
I always chain stitch, which means I don't lift my presser foot between squares. I just stitch off the end, then put the next block on and keep sewing. Then at the end, it's a simple matter of clipping the stitches between the squares. There's no need to back tack quilting blocks.
Rows sewn together:
Step 7: Press your blocks as you go.
This means you put your iron down and lift it straight up without moving the iron along the fabric. This will help your seams not stretch and create much better fitting blocks.
Step 8: Sew your rows together.
Sew on any borders you want to add.
Before borders:
The finished top:
Step 9: Sew backing.
Measure your quilt and cut your backing into two long pieces. Sew the two pieces together so that there is a long seam. This seam should run lengthwise down the very center of your quilt. Press the seam open.
If your quilt is less than 45" wide, you can use one big piece without any seams, as most quilting fabric comes in 45" wide.
Measuring my backing:
Step 10: Determine how you are going to quilt.
The easiest thing to do is to take your quilt to a quilting shop to have it professionally quilted. You can check your local prices, but around here, it's $20 an hour and a twin would take 2-3 hours (a screaming deal, if you ask me).
If you're going to quilt it yourself, you have a few options. You can tie it, if you know someone with a quilting frame. You can machine stitch it, but you will need a walking foot. This helps feed the fabric on the top at the same rate as the bottom. Without it, it's a mess. My mom's Pfaff has one built in and it's amazing. If you're truly crazy, you can hand quilt it with a hoop or frame. In the rest of the directions, I'm assuming you choose to machine quilt it yourself.
Step 11: Prepare your layers for quilting.
I always choose a low-loft batting because it looks so much more professional when machine quilted. I always start out with the backing on the bottom, the right side facing the ground. Then smooth out your batting over it. Then center your quilt top, facing up. Spray in sections and smooth out from the middle. It will be easier if you can talk someone into helping you. Basting is also an option, but I dislike it greatly.
Flip your quilt sandwich over and adhere the back, using the same method as the front. You should have at least 3" overhang on each side, but not more than 6 or 7".
Step 12: Quilt.
Start in the middle and work your way out to the ends. Stitch length should be 2.5 to 3.5 mm. Most batting has a recommended distance. Mine was 2-4" inches. Sew out from the center to the edge, then turn and start in the middle again, quilting out to the edge.
The quilt under the sewing machine.
Step 13: Trim the border.
Using your quilting ruler and rotary cutter, trim the border to a uniform size. The batting should come to the edges of the fabric.
Trimming up the edges:
All trimmed up:
Step 14: Bind the edges.
You can buy double fold bias tape for this, or make your own. Or, use the following tutorial on a simple way to avoid ironing long strips into double fold bias tape. It's not traditional, but I love it because it uses the sewing machine for both sides (no hand stitching!) and no folding or ironing.
Cut bias strips at between 2.5-3". Sew strips together until they are long enough to go around the perimeter of your quilt:
Start on the wrong side on of the quilt. Turn under the end about two inches:
Fold raw edges together lengthwise and match them with raw edges of quilt. Start stitching about 1.5" from the end of the binding and 3/8" from the side:
Stitch until you get to the corner. At 3/8" from the end, put your needle into the fabric. Lift your presser foot and turn the quilt:
Pulling taut, turn the binding so that the raw edges match up again. Continue sewing:
When you get back around to where you started, stop about 6 or 7" from the beginning. Pull taut and trim just shorter than where your stitching starts:
Tuck end into folded binding. Stitch remaining distance, tacking once you are past the start of the stitches.
Turn quilt over and wrap binding around to front:
Being sure to hide the visible stitches underneath the front fold, start stitching about 1/8" from the edge of the fold. Pull and fold over as you go.
When you get close to a corner, stop a little away from it and trim the corner off:
As you approach the corner, pull it taut and square:
Then continue stitching until you reach the corner point, like this:
Put the needle into the fabric, then turn the quilt. Pull the fabric around to the front, put your presser foot down and continue stitching.
When you get around, tack your stitches down and trim the ends.
Picture of the finished binding:
Enjoy your finished quilt!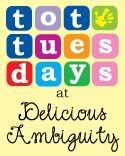 I've started a new blog: Come follow my crafting adventures on my new blog. Find me at: creativeirony.com.